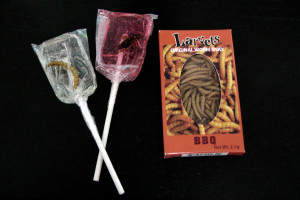 Christmas is right around the corner, which means it's that time of year to load up on candy, either to munch on yourself or to gift as stocking stuffers. But why stick to the traditional chocolates and peanut brittle? To add a fun little kick to your Christmas candy this year, consider giving your loved ones candied insects. There are many types of bug candies to choose from, whether you want to give your family and friends chocolates, brittle, suckers, or other insect snacks.
Insect Suckers
Insect suckers have long been a favorite among children, tweens, and teens, making it a great choice as a stocking stuffer this holiday season. These colorful suckers actually contain a real insect in their center. You can choose from a variety of colors, flavors and insects, including grasshoppers, crickets, ants, worms, and scorpions. Flavors include toffee, apple, banana, blueberry, grape, strawberry, orange, tequila, and watermelon.
Chocolate Covered Ants
Chocolate covered ants are another long-time favorite, with many forms of this treat to choose from. Likewise, you can also choose from chocolate covered crickets. This would be the perfect gift for an adult relative who's got a sweet tooth, or an older teenager.
Amber Brittle
Peanut brittle has always been a popular delicacy during the holiday season, so why not spruce it up this year by giving out amber brittle with insects inside? This ribbon-style toffee-flavored candy houses insects and a fern inside, and is designed to look like fossilized amber. How could anyone NOT want this in their stocking?
Chocolate Covered Scorpion-on-a-Stick
Scorpions are a popular treat in many parts of the world, and one of the more popular ways to enjoy these critters is on a stick… dipped in chocolate. Lots and lots of chocolate. The appeal of a chocolate covered scorpion is that it still maintains its shape, all the while making a delicious snack. This would be a great gift for the adventurous eater in your family, or for that relative you don't like.
Butterfly Candy
While butterfly candy isn't made from real butterfly, this ribbon style flavored hard candy does feature a real insect, along with edible flower petals to simulate the appearance of an actual butterfly. This candy is available in blueberry and strawberry flavor, and would make a delightful gift for anyone on your Christmas list.
Ant Candy
Ant candy is a hard candy that is designed to look like an ant farm. It contains real black ants, and is available in a variety of flavors, including chocolate, apple, and cherry. Your family members are sure to get a kick when they find one of these in their stockings this year. One thing's for sure – Christmas will be a lot more interesting if you hand out insect candy instead of the normal Christmas fare. Your loved ones are guaranteed to get a kick out of receiving these exotic candies – or they will run screaming from you. Which would be a good thing if they are a relative you don't necessarily enjoy.
Chris is a blogger for Excel Termite & Pest Control a NJ based pest control company.
Related articles